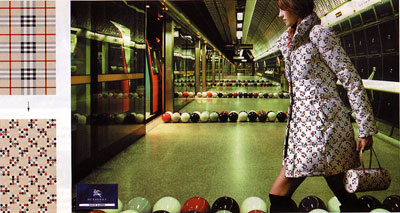 Notcot.com is an awesome site for cool design and fashion happenings—checkout their site for Burberry stuff:



"Burberry eyes the dots in Japan? is the article title from Creativity Magazine… amazingly enough, and after two years of development, Tokyo agency Tugboat has created the "serious change? Burberry desired… "The challenge in developing the new pattern was how to maintain the tradition and the quality of the Burberry check yet make it into a new iconic image of the brand.? Gutsy. [Is this in the style of LV going Murakami?]



I guess this is just proof of the impact of the Asian market on the old school fashion houses that have been quickly losing revenue internationally the last few years…


[Link via Notcot]
No related posts.
Related posts brought to you by Yet Another Related Posts Plugin.
Tags: